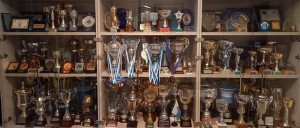 …My passion for model airplanes was born back in 1982 with the participation in aeromodelling school held by the San Marino Aeronautical Federation when I was 11 years old.
 Since that time I have participated in all editions and the popular RAID aeromodelling gliding of San Marino, until 1993 I have attended a few competition of  RCV (gliding).
From 1993 to 1996 I have participated in national competitions F4C/S, I had approached the fascinating aerobatic world, participating in national F3A/S competitions.
Since 1998 began for me the great satisfaction with the participation representing the Republic of San Marino, to international competitions and World & European champi onships F3A-F6A-F3M.
From 2015 I started competitions in a new popular category, the F5J motor gliders…
Palmares
n.281 aeromodelling events: 
•          9 World championships
•          11 European championships
•          1 World Air Games (Olympiad air sports)
•          60 international competitions of radio-controlled aerobatics
•          4 international competitions of radio-controlled gliders
•          21 international gliding RAID of San Marino
•          99 national competitions
•          42 competitions open region
•          16 international shows
•          14 national shows
My competitions from 1993 …
2022
EuroCup IMAC (ITALY)
IMAC Italian Championship
F3AX Italian Championship
F5J Italy Cup

F5J San Marino Championship
Air models Show
2021
World Cup  F3A ITALY
World Cup  F3A AUSTRIA
EuroCup IMAC (ITALY)
F5J Italy Cup

F5J San Marino Championship
Air models Show
2020

F5J Italy Cup

F5J San Marino Championship
2019

World Championships F3A - Calcinatello  (ITALY)
World Cup  F3A AUSTRIA
F5J Italy Cup

F5J San Marino Championships
Air models Show
2018

European Championships F3A - Grandieu  (BELGIUM)
F5J Eurotour/Intertour ITALY – Vercelli Carisio
F5J Eurotour/Intertour SLOVENIA – Vipava
World Cup  F3A AUSTRIA
F5J Italy Cup

F5J San Marino Championships
Air models Show
2017

F5J Eurotour/Intertour ITALY – Vercelli Carisio
F5J Eurotour/Intertour SLOVENIA – Vipava
World Cup F3A CZECH REPUBBLIC
World Cup  F3A AUSTRIA
F5J Italy Cup

F5J San Marino Championships
Air models Show

2016
European Championships F3A - Untermuenkheim  (GERMANY)
World Cup F3A SAN MARINO and San Marino Championships
World Cup F3A CZECH REPUBBLIC
World Cup l F3A AUSTRIA-Feistritz/Gail
RAID International aeromodelling gliding
F5J Italy Cup
F5J San Marino Championships
Air models Show
2015
World Championships F3A - Dubendorf (SWITZERLAND)
World Cup F3A SAN MARINO and San Marino Championships
World Cup F3A CZECH REPUBBLIC
World Cup  F3A AUSTRIA-KRAIVIESEN
RAID International aeromodelling gliding
F5J Italy Cup
Air models Show
2014
Italian Acromaster F3A
European Championships F3A - Bendern (LIECHTENSTEIN)
World Cup F3A SAN MARINO and San Marino Championships
World Cup F3A SUD TIROL
World Cup  F3A AUSTRIA-KRAIVIESEN
Air models Show
2013
Italian Championships F3A
World Cup F3A CZECH REPUBBLIC
World Cup F3A SAN MARINO and San Marino Championships
World Cup F3A SUD TIROL
World Cup  F3A AUSTRIA-KRAIVIESEN
Air models Show
2012
Italian Championships F3A
European Championships F3A - Châteauroux (FRANCE)
World Cup F3A CZECH REPUBBLIC
World Cup F3A SAN MARINO and San Marino Championships
World Cup F3A SUD TIROL
Air models Show
2011
Italian Championships F3A
World Championships F3A - Muncie (Indiana – USA)
World Cup F3A ENGLAND
 World Cup F3A AUSTRIA
World Cup F3A SAN MARINO and San Marino and italian Championships
World Cup F3A SUD TIROL
Air models Show
2010
Italian Championships F3A
European Championships F3A - Kapfenberg (AUSTRIA)
International F3A CZECH REPUBBLIC
International Cup F3A SAN MARINO and San Marino Championships
 International F3A GERMANY
International F3A SUD TIROL
International ITOC 2010 ITALY ARGENTARIO
Air models Show
2009
Italian Championships F3A
Italian Championships F6A
World Championships F3A – Pombal (PORTUGAL)
International F3A LIECHTENSTEIN
World Air Games 2009 F6A – TURIN (ITALY)
International Cup F3A SAN MARINO and San Marino Championships
International F3A SUD TIROL
Air models Show
2008
Italian Championships F3A
Italian Championships F6A
European Championships F3A – Calcinatello (ITALY)
International F3A LIECHTENSTEIN
International TEST EVENT wag 2009 F6A ITALY – TURIN
International Cup F3A SAN MARINO and San Marino Championships
Mobby Trophy F3A/X
Air models Show
2007
Italian Championships F3A
Italian Championships F3AXL
Italian Championships F6A
World Championships F3A – Santa Fè (ARGENTINA)
International F3A LIECHTENSTEIN
International F3A SUD TIROL
International F3A AUSTRIA-KRAIVIESEN
International Cup F3A SAN MARINO and San Marino Championships
Air models Show
2006
Italian Championships F3A
Italian Championships F3AXL
Italian Championships F6A
European Championships F3A -Buochs (SWITZERLAND)
International ACROMASTER F3AXL – Albstadt (GERMANY)
International F3A LIECHTENSTEIN
International F3A SUD TIROL
International Cup F3A SAN MARINO and San Marino Championships
Radio Model Show -Ozzano Emilia (ITALY)
Air models Show
2005
Italian Championships F3A
Italian Championships F3AXL
World Championships F3A – Saint Yan (FRANCE)
International F3A CYPRUS
International F3A LIECHTENSTEIN
International Cup F3A SAN MARINO and San Marino Championships
Radio Model Show -Ozzano Emilia (ITALY)
Air models Show
2004
Italian Championships F3A
European Championships F3A – Alcochete (PORTUGAL)
International F3A LIECHTENSTEIN
International Cup F3A SAN MARINO and San Marino Championships
Mobby Trophy F3A/X
Experimental Italian Competition Artistic Aerobatic F6A
International Artistic Aerobatic F6A Barcellona (Spain)
Air models Show
2003
Italian Championships F3A
World Championships F3A – Deblin (POLAND)
International F3A LIECHTENSTEIN
International Cup F3A SAN MARINO and San Marino Championships
Mobby Trophy F3A/X
Radio Model Show -Ozzano Emilia (ITALY)
International Artistic Aerobatic F6A Barcellona (Spain)
RAID International aeromodelling gliding
Air models Show
2002
Italian Championships F3A
Italian Championships F3A/X
European Championships F3A -ZAMORA (SPAIN)
International Cup F3A SAN MARINO and San Marino Championships
Mobby Trophy F3A/X (ITALY)
RAID International aeromodelling gliding
Radio Model Show -Ozzano Emilia (ITALY)
Air models Show
2001
Italian Championships F3A
International Cup F3A SAN MARINO and San Marino Championships
World Championships F3A – CORK (IRELAND)
RAID International aeromodelling gliding
Air models Show
2000
Italian Championships F3A
International F3A – REGENSBURG (GERMANY)
European Championships F3A – OTHE'E (BELGIO)
T.O.C. LAS VEGAS (NEVADA U.S.A.) caller of Sebastiano Silvestri
RAID International aeromodelling gliding
Air models Show
1999
Italian Championships F3A/S
Italian Championships F3A
International F3A – KLAGENFURT (AUSTRIA)
World Championships F3A – PENSACOLA (FLORIDA U.S.A.)
RAID International aeromodelling gliding
Air models Show
1998
Open F4C/S
Italian Championships F3A/S
Competition F3A
Mobby Trophy F3A/X (ITALY)
European Championships F3A – FANO (ITALY)
RAID International aeromodelling gliding
Air models Show
1997
Open F4C/S – F3A/S
Italian Championships F3A/S
Mobby Trophy F3A/X (ITALY)
RAID International aeromodelling gliding
Air models Show
1996
Open F4C/S – F3A/S
Italian Cup F4C/S
Italian Championships F3A/S
Mobby Trophy F3A/X (ITALY)
RAID International aeromodelling gliding
Air models Show
1993-199

5



Open engine-gliders
Open F4C/S
Italian Cup F4C/S
Italian Championships F4C/S
RAID International aeromodelling gliding
Air models Show
1983-1992
RCV gliders
RAID International aeromodelling gliding
Air models Show